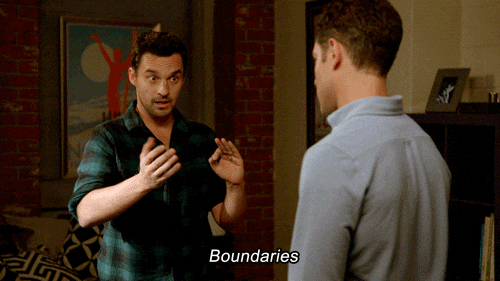 Do you feel confident in communicating your boundaries with clients? It can be one of the most challenging parts of being a business owner because many of us fall into people pleasing for one reason or another. Maybe you're nervous that to drive a potential client away, or maybe you are worried about a bad customer review. Whatever the reason, it's not worth your stress and frustration. Hell, you might already be feeling less than happy about certain client relationships. If you're in that camp, keep reading for 3 signs that you need to start getting clear on boundaries.
1. You're nervous to check your phone after work hours
If you're constantly feeling anxious about checking your phone at the end of a long work day, it's time to take a look at your boundaries. You might be receiving emails expecting a quick reply at 9:00 PM, or you might be getting constant texts or DMs while you're trying to make dinner. Feeling like you can't clock out and relax is not fair to you, and is a BIG sign that it's time to clarify your client's boundaries. Constant communication (and taking care of it right away) can greatly affect your stress levels and work-life balance, and can even lead to burnout.
2. You've got cash flow problems
Another sign that you need to set clearer boundaries is if you're sending out invoices and nothing is coming back in. That shows that your clients are not making payments in a timely fashion, and are not respecting the invoice due dates. In your business contract, you should discuss payments and late penalties if they are not being submitted on time. Clients need to remember that your business is your livelihood. You deserve to get paid for all of the work that you're completing, and you shouldn't have to send awkward email after awkward email to receive the amount you're due. Late and missed payments can also make it more difficult for you to keep up with your business expenses, pay any team members that you have on board, and create a working budget. So if a client is missing them regularly, it's time to chat.
3. You're dealing with constant scope creep
If your clients are constantly requesting changes, additions, or modifications to their projects that weren't previously agreed upon, you're definitely dealing with scope creep. This can be difficult to manage as a business owner because it can impact the project timeline, create confusion around expectations and deliverables, and can strain your ability to keep up with other projects. And here's another sneaky scope creep example: clients who receive 1-2 revisions in their package, but are then asking for 3, 4, or more rounds. Many clients who aren't aware of or aren't respecting your boundaries request these changes without acknowledging that it will impact both the time they're waiting and the cost of the project.
If you're having this issue, it's a sign that you need to start communicating the project outline more in-depth and at the very beginning. This way, the client is aware of what's included, so if they ask for more, you can either reference your initial agreement and let them know it's not possible, or charge them an additional fee to complete the work.
Communication is the name of the game
Whenever you feel like your boundaries are being crossed, it can be frustrating, upsetting, and even anxiety-inducing. No one likes to feel like the bad guy, but you're well within your rights as a business owner (and person) to communicate that a client is not adhering to your initial agreement.
So how do you avoid this? Clear, consistent communication. Be upfront right from the beginning of the project, and have a clearly outlined contract that both parties are able to refer back to if there's any confusion.
Next week, we're talking more about the best ways to communicate your boundaries, and I'll give you some examples of my own business boundaries!
Do you ever deal with any of these issues? Do you think you need to set clearer boundaries? If you do, you're certainly not alone. Let's discuss in the comments!